Francis Goossens (fountainbel) is a retired mechanical engineer living in Belgium. He always uses a fountain pen and has a nice collection of vintage pens. He repairs his and others pens since his retirement a few years back. He designs and makes various prototypes of his own plunger fillers. In recently years, he develops the patent pending "Fountainbel" Bulk Filler which can hold as much as 2.5ml of ink.
"CONID" in Antwerp-Belgium made the first 60 demonstrators First Production Run (FPR) 2012 pens. they are delivered to customers in July 2012. barrel is made of polycanbonate, the cap is acrylic. The barrel thread, clip, turning knob, cap top and ring are solid titanium fabricated on CNC machines. the piston rod is made of stainless steel. No injection mould components are used in this stage of FPR. No glue are used, and o-ring are used for sealing components.
Bock #6 nib unit are used.
Tools and instructions for dissembling are also provided.
pen capped length: 136.0 mm
pen length: 127.2 mm
pen barrel diameter: 13.0 mm
cap diameter: 15.0-17.5 mm
pen and cap weight: 28.8 g
pen weight: 17.7 g
cap weight: 11.1 g
the packaging,
the pen...
the two o-rings on the turning knob is for capping,
---
how to fill...
Conid Bulkfiller filled by Francis
,
Conid Bulkfiller - Filling Procedure
(image from
fountainbel
with permission, click to enlarge)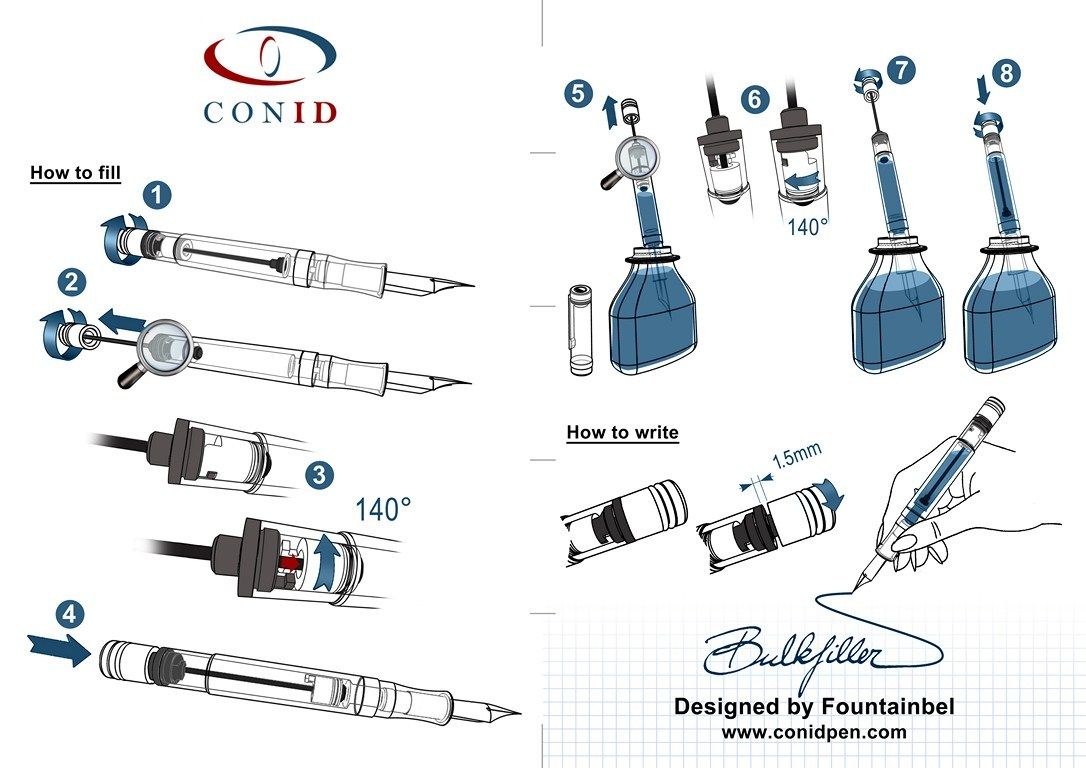 Unscrew the filling knob

Pull rod fully out and -while slightly pulling- screw the threaded rod-end in the piston till radial back-up

First image shows the piston is still radially anchored after step 2.
Second image shows one has to turn the filling knob 140° - till radial back-up - disengaging the anchor AND automatically generating a 1mm axial (forward) movement of the piston.
The 1mm cam driven axial movement is our unique "stick-slip breaker", which ensures the piston will easily move further forward even after having been stationary for a long time.

Push the piston/rod assembly fully in.

Immerse the nib fully under ink level and pull the piston fully up, filling the pen.

First image shows the piston is not anchored yet.
Second image shows one should twist (turn) the filling knob 140°, anchoring the piston to the barrel enclosure nut.

Turn filling knob further, unscrewing the rod from the anchored piston.

Push the disengaged rod in the barrel, and screw the filling knob on the barrel enclosure nut.
Doing so the shut-off valve closes for safe travel, even at low ink volume.

more information:
---